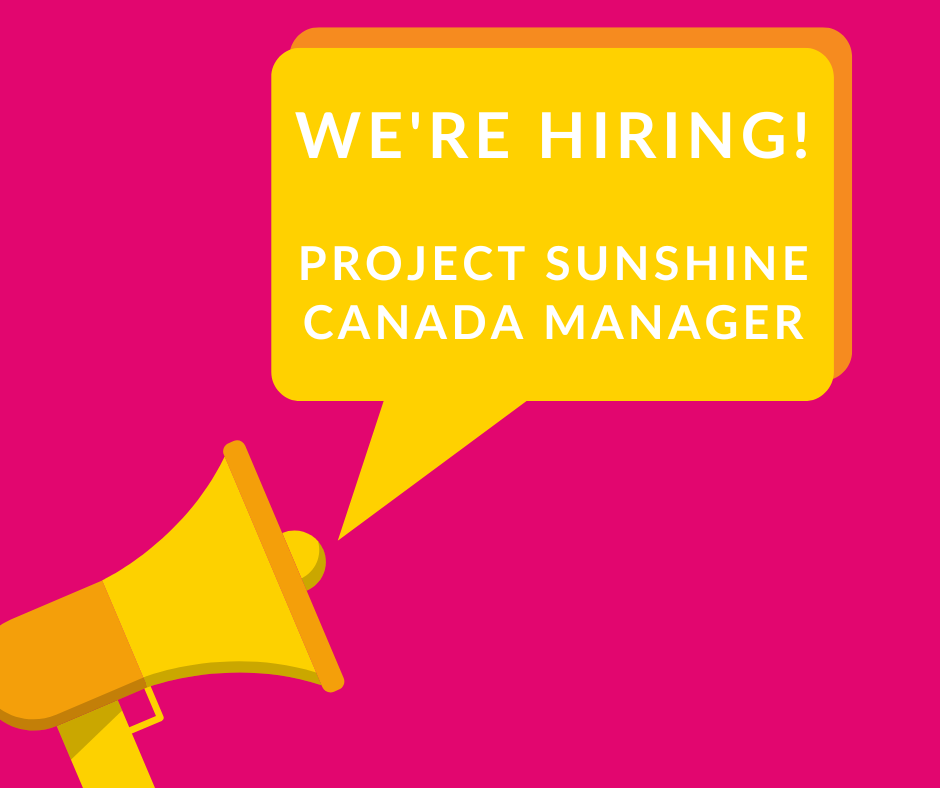 Position: Manager, Project Sunshine Canada (PSC)
Type: Full Time
Reports to: Director of International Programs in Project Sunshine Inc (USA)
About Project Sunshine:
Project Sunshine is a 22-year-old international nonprofit that has deeply understood the benefits of play since day one. We deliver healing play to children and families facing medical challenges by mobilizing volunteers to share connection, creative expression, and joy. The organization is present in more than 40 partner hospitals in Canada in addition to partner sites across the US, Kenya, Israel, and China. Project Sunshine programs include in-person volunteering at local hospitals, packing and delivery of individualized activity kits, and most recently, a virtual play program with volunteers called TelePlay.
In Canada, thousands of trained volunteers deliver programs that provide opportunities for creative expression, socialization, intellectual stimulation, and sensory integration to thousands of pediatric patients and families each year. Our unique volunteer engagement model allows community groups, colleges, and corporations to create moments of connection with pediatric patients, caregivers, and families providing child and family-centered, play-based programming.
In 2020, we expanded to deliver a third channel of programming called TelePlay, which provides live, interactive play and activities over video conferencing. For the first time we can now directly serve children and families, in addition to our partnerships with hospitals and nonprofits around the world.
About the Manager Position:
The primary role of the Manager is to manage programming and revenue generation in Canada as well as oversee administrative matters to ensure efficient running of Project Sunshine Canada. This is a small country program (you will be the only employee!), which allows for a great deal of independence, but working closely with our accountant and Project Sunshine Inc in the US to receive support for operations in Canada. This position offers an excellent opportunity for a person passionate about volunteerism, public service, and child development.
This position is 100% remote and requires ability to access our storage facility and PO Box in Toronto, Ontario at a minimum of at least once a week. Access to car and a valid driver's license are necessary.
Principal Responsibilities:
Programming
Serve as the main point of contact for all PSC volunteers, working with the Volunteer Engagement department to coordinate volunteer training, recruitment, recognition, and retention
Serve as the point of contact for medical facilities to introduce and expand TelePlay and In Person programming, creating as necessary, corresponding volunteer chapters (both College and Community Chapters) to partner with medical facilities wanting to bring Project Sunshine Canada programming to their facility

Facilitate and manage all aspects of ongoing, and one-off programs and special events, which may be in-person or remote

Establish and maintain clear program budgets

Manage the Young Patron's Circle committee
Administrative
Oversee administrative aspects of programming, which includes Salesforce program data entry, processing receipts submissions together with the accountant, volunteer reimbursements, scheduling of volunteers and service providers, preparing shipping of program materials

Oversee existing contracts with vendors and negotiate new contracts as signing authority

Serve as a liaison and content partner to the Marketing and Communications team for creating social media updates and website content

Provide administrative support to Director of International Programs for board-related activities
General office upkeep including ordering office supplies

Manage storage unit and PO Box (in Yorkville)

Make deposits to the bank when cheques are mailed

Other administrative tasks as needed
Corporate Social Responsibility and Fundraising
Provide remote (across Canada) or on-site management for events held in Toronto, and support with invoicing and payment processing and other relevant tasks as needed

As the main representative of Project Sunshine Canada, establish and expand partnerships with corporations to include direct contributions

Support fundraising efforts of college chapters through trainings and promotion of fundraising activities; organize and execute other fundraising efforts

In coordination with the Director of International Programs and the Development Department, edit drafted grant proposals, providing relevant program details for grant requests, assist with donor relations
Qualifications 
Bachelor's Degree, Master's degree preferred  

Strong verbal, written, organizational, and interpersonal communication skills 

Fluency in French (oral, written) highly desirable
Detail‐oriented, highly organized, and flexible 

Experience with Microsoft Office including fluency with Word, Excel, Outlook, Teams required 

Experience with Salesforce a plus 

Ability to work individually and collaboratively to meet goals 

Enthusiasm for Project Sunshine's mission 
Project Sunshine is an equal opportunity employer, dedicated to creating a workplace culture of inclusiveness that reflects the diverse communities that we serve. Project Sunshine is also an accessible and inclusive organization that provides barrier-free and accessible employment practices in compliance with the Accessibility for Ontarians with Disabilities Act. Should you require accommodation through any stage of the recruitment process, please provide us with any relevant information and we will work with you to meet your needs.
Please note that it is a requirement of this position to be legally permitted to work in Canada. Candidates may be required to provide the appropriate documents to confirm eligibility to work in Canada.
To Apply 
Please email your cover letter, resume, and salary expectations to HR1@projectsunshine.org with "PS Canada Manager" in the subject line. 
Salary Range: 60,000 CAD - 65,000 CAD